m

Line 3:
Line 3:
 
 
 

== The Eevee Debate ==

 

== The Eevee Debate ==

−

Lapras was the subject of controversy during the "Eevee Debate". The [[Hive Mind]] realized that at some point in the playthrough, they would need a Pokémon that could learn the move "Surf" in order to progress to Cinnabar Island. The two candidates for the role of "Surf Slave" were Lapras, and Vaporeon (which required getting an Eevee and a Water Stone). The [[Hive Mind]] were divided into two separate groups, those who wanted Lapras, and those who wanted Vaporeon.

+

Lapras was the subject of controversy during the "Eevee Debate". The [[Hive Mind]] realized that at some point in the playthrough, they would need a Pokémon that could learn the move "Surf" in order to progress to Cinnabar Island. The two candidates for the role of "Surf Slave" were Lapras, and Vaporeon (which required getting an Eevee and a Water Stone). The [[Hive Mind]] divided into two separate groups, those who wanted Lapras, and those who wanted Vaporeon.

 

The [[Hive Mind]] ended up getting an Eevee, and in a twist of irony, they purchased the Fire Stone and evolved Eevee into Flareon.

 

The [[Hive Mind]] ended up getting an Eevee, and in a twist of irony, they purchased the Fire Stone and evolved Eevee into Flareon.

 

[[Category:RED's Team]]

 

[[Category:RED's Team]]
---
Revision as of 15:03, 8 May 2014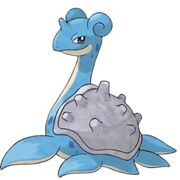 AIIIIIIRRR (AKA Air Jordan) is a Lapras who first appeared in Twitch Plays Pokémon Red Version as one of RED's party Pokémon.
The Eevee Debate
Lapras was the subject of controversy during the "Eevee Debate". The Hive Mind realized that at some point in the playthrough, they would need a Pokémon that could learn the move "Surf" in order to progress to Cinnabar Island. The two candidates for the role of "Surf Slave" were Lapras, and Vaporeon (which required getting an Eevee and a Water Stone). The Hive Mind was divided into two separate groups, those who wanted Lapras, and those who wanted Vaporeon. The Hive Mind ended up getting an Eevee, and in a twist of irony, they purchased the Fire Stone and evolved Eevee into Flareon.
Community content is available under
CC-BY-SA
unless otherwise noted.