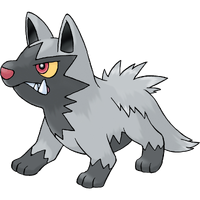 ATMMMGMGG, also known as ATM, is a Poochyena and one of A's Pokémon. She is female, has a Sassy Nature, and is currently at Level 14. She is not currently holding anything.
Moves
Tackle
Howl
Sand Attack
Bite
History
While leveling up our Pokémon on Route 9, we ended up catching Ata with one of our extra Poke Balls. She then became the sixth member of our team. While trying to challenge Roxanne she was accidentally deposited into the PC.
Trivia
ATMMMGMGG is the only Poochyena who was given a nickname.