After Twitch Plays Pokémon Red Version, the streamer put on a couple of Side-Games until Crystal started and has recently done the same thing in the six days between Crystal and Emerald.
Games
Pokémon Pinball
Pokémon Puzzle Challange
Pokémon Trading Card Game
Keitai Denjuu Telefang (Pokémon Diamond and Jade)
Pokémon Land GB (Super Mario Land)
Pokémon of the Past DX (The Legend of Zelda: Link's Awakening DX)
Pokémon Pinball Ruby and Sapphire
Keitai Denjuu Telefang 2
Twitch "Plays" Pokémon
Super Monkey Ball Jr.
Mario Golf: Advanced Tour
Tony Hawk's Pro Skater 2
Punch King: Arcade Boxing
Metal Gear Solid
Frogger's Adventures: Temple of the Frog
WarioWare, Inc.
Doom
Payback
Lunar Legend
Golden Sun
Sonic Advanced
Mother 3
Catz
Dogz
Pokémon Mystery Dungeon: Red Rescue Team
Pokémon Mystery Dungeon: Blue Rescue Team
New Super Mario Bros
Korg DS-10
Peggle: Dual Shot
Mario Party DS
Pokémon Stadium and Peggle: Dual Shot at the same time
Pokémon Stadium and Korg DS-10 at the same time
Super Mario Bros.
Bubble Bobble
Punch Out
Galaga
Pac-Man
Pokémon Mystery Dungeon: Blue Rescue Team
Electroplankton
Petz Bunnyz
Mario Party DS
Pokémon Conquest
SimCity DS
Peggle: Dual Shot
Pokémon Black 2

to

Pokémon X
Coming Soon
Pokémon X

to

Pokémon Omega Ruby
Pokemon Stadium 2
Super Mario 3D World
Mario Kart 8
The Legend of Zelda: Wind Waker HD
Hyrule Warriors
Lore
Recently some lore has developed within the Crystal and Emerald intermission with Keitai Denjuu Telefang, Catz, and more.
Keitai Denjuu Telefang
Most people have taken Telefang (also called Pokémon Diamond) as a prequel to Crystal with the main character being Joey traveling through out the region.

Catz/Dogz
Main article: Catz
Catz and Dogz have become popular lore with the TPP Community. Some of the lore includes checking the clock, watching the cat walk around, 10 PM, the cat walking in place, and our father. Our cats name was Michael Catson and our dogs name is CMAAAA.
Twitch "Plays" Pokémon
When we where watching some of the Pokémon anime some meme's developed due to the controls. These include Team Rocket saying bombs away, Pikachu's cry being repeated, Ash going "auaahhaha" repeatedly, and more. The episodes played were:
Pokémon, I Choose You! (Pokémon)
Here Comes the Squirtle Squad (Pokémon) 
Chaos Conrtol Freaks (Sonic X)
Mario Party DS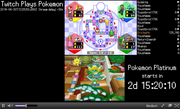 While we were waiting for Pokémon Platinum to start, 2 days before the game we began playing the game Mario Party for the Nintendo DS. This ended pretty similar like when Twitch was watching the Pokémon anime, with Luigi losing lots of minigames, Yoshi betraying Luigi, Peach being a cheater and Toad not being able to defeat the first boss.