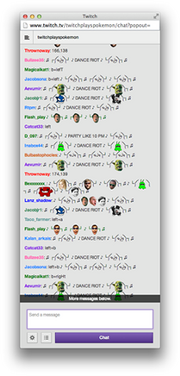 Hype-- When something exciting will soon happen, like when we're about to catch something.
Riot-- People say this to try to get certain things in the game or when the stream is down.
Les Misrables Quotes -- 24 hours from Platinum, people in chat started saying "ONE DAY MOOOOR" " ONE MORE DAY TILL' REVOLUTION"
He's Not Dead He's Dancing-- Referring to Michael Catson.
Guys we need to beat Misty -- said very sarcastically.