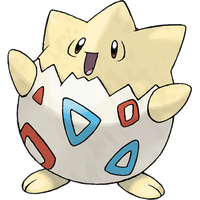 Togepi also known as Prince Omelette is a former member of AJDNNW's team in Twitch Plays Pokémon Crystal Version. This egg was received as a gift from Elm's Assistant within the first day (1 day, 3 hours, 57 minutes) and was later hatched at Level 5 on Day 1 (1 day, 12 hours, 9 minutes). The Prince was accidentally released during one of the Gator Wars at Level 12 on the third day (3 days, 15 hours, 24 minutes).
Moves
Metronome
Charm
Growl
Flash
History
Hatched
During AJ's visit to Mr. Pokémon's House, he received a Mystery Egg, which after being analyzed by Professor Elm's Assistants, hatched into a Togepi, immediately called Prince Omelette by the Hive Mind.
The Prince's Sacrifice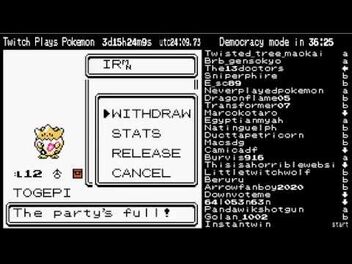 That same day (Day 1), Prince Omelette reached level 7 and learned Metronome, his first attack skill. He used Sacred Fire, Ho-Ho's signature move one time thanks to Metronome. After that, he reached level 12, having the skills Growl, Metronome, Charm, and Flash under his belt. Sadly, Prince Omelette lived only 3 days and 15 hours within the team. When the Hive Mind was trying to release AAAAAtttta, he was accidentally released instead.
Trivia
Togepi was the second to last Pokémon released in Twitch Plays Pokémon Crystal Version.
He gained his nicknamed "Prince" back when the Red meme's where still being leached on before No Gods. No Kings. Only 'Mon. started.
Prince Omelette was one of the two egg's in Twitch Plays Pokémon Crystal Version, the second was Smoochum.
Gallery