Twitch Plays Pokémon FireRed Version is the fourth game Twitch Plays Pokémon has progressed through. It started April 11, 2014 and ended April 27, 2014.
Creation

During the downtime between
Pokémon Crystal
and
Emerald
, the streamer announced that we will be playing FireRed after Emerald and that it would be randomized.
Pokémon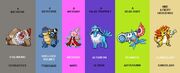 Altaria (Altareon)
MARC (Marx)
AATUUUUNN (Hyperbug)
TTABCIJIJD (Shellock Holmes)
Sandslash (Flameslash)
CCCDJCCCC5 (DJ/Slaking)
Inside the PC
hnjkrs (Machop)
Marill (2)
AUNGHBUUNO (Slugma)
ZDNNNG (Skitty)
Surskit
Nidoran (Nidoran♀)
DPKEKQ (Pidgey)
Kirlia
MATMNIDJKR (Nincada)
AAAAAHHHMMV (Cacnea)
BBAVVCM (Pikachu)
APPSZZZZ_ (Wingull)
Rattata (2)
ADDXXXXXXT (Metapod)
Metapod
Nincada
Wingull (2)
Hoppip
A (Eevee)
QQP (Mankey)
Glalie
Torchic
TUVWWWWWWT (Treecko)
Jumpluff
Marowak
CWOUDDWW
Electrike
AAT (Togepi)
Koffing
Mankey
Pikachu
AAT (Wingull)
Seel
Lileep (3)
,,KQQQQ (Shuppet)
BMBBUHVVDW (Tentacool)
Tentacool (4)
TTTTTTOOWJ (Gloom)
Shuppet (6)
Poliwag (4)
AATTTTWWWW (Carvanha)
Rhyhorn
T,,LRLLKKK (Tentacool)
TTTTTTAAAA (Shuppet)
Larvitar
Aron
nnnoopoo (Surskit)
AABBBKKKQQ (Ponyta)
Machop
Lwweekjjje (Ariados)
AATUUVWVW (Charizard)
Inside the Daycare
none
Released
Zigzagoon
Nidoran♂ (traded)
Characters
Items
Hard Stone (1)
Scope Lens (1)
Poké doll (1)
White Flute (1)
Sea Incense (1)
Shoal Shell (1)
Brightpowder (2)
Fab Mail (1)
Macho Brace (1)
Shell Bell (2)
Lemonade (1)
Metal Coat (1)
Poison Barb (1)
BlackGlasses (1)
Guard Spec (1)
Sun stone (1)
Tiny Mushroom (1)
Wave Mail (1)
X Accuracy (1)
Lore
none
Gallery
External Links